Construction9 Mar 2022
New HS2 station designs revealed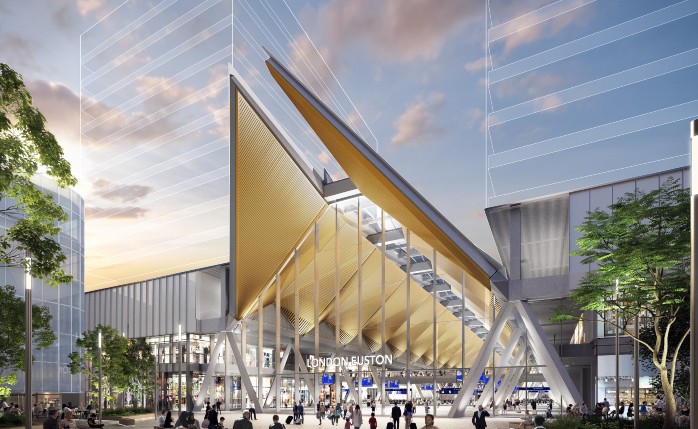 HS2 has revealed new images of the updated design for the high-speed rail station at Euston, with a bold geometric roof that will create a distinctive identity for the new station.
HS2 Euston station is set to kick-start the revitalisation of the area, supporting wider redevelopment plans and creating a new transport hub in the heart of London. It will have a vibrant, modern 300-metre-long station hall opening onto new public spaces to the north and south. The hall will also function as a continuous, sheltered north-south pedestrian route (fully accessible without a ticket), linking Euston Road and Bloomsbury to Hampstead Road and Camden Town.
The HS2 design is now based on 10, rather than 11 platforms, allowing the station to be built more efficiently and reducing disruption to surrounding communities. HS2 is also embedding sustainability in all aspects of the design.
Plans also include underground pedestrian connections linking Euston and Euston Square Underground Stations for the first time.
The HS2 station will integrate with the emerging Lendlease Over-Station Development plans, and proposals to redevelop the existing Network Rail station.
HS2 will be holding a number of engagement sessions to showcase the new design to members of the local community and passengers during May and June this year.
Click here for more information about the station design. And go here for information about the HS2 events.